I usually blog on Monday night. But with Berlin Marathon on Sunday (tomorrow), I have decided I want to put this out early. The reason being; I don't want the race result to sway how I look back on this week. Also, I want to be able to share it with you now, so you are fully up to date with the build up, before the big event.
I am always striving for honesty. The more honest I am, the better I feel about my blog, and the better the response seems to be from you guys.
But, I have to tell you, this week…OK, give me a moment, this is difficult to say…
This week. I feel…
Fantastic.
Every single thing has gone my way this week. I have been unsure about admitting this, cos I don't want to 'jinx' or 'curse' it. But then, I don't believe in any of that fatalistic bollocks, so there it is. I feel great.
I could try and list everything that has gone right this week, but we would be here all day. Instead, I will list everything that has gone wrong.
Flight to Berlin delayed by 1 hour
That's it. But I love hanging out in airports anyway; people watching, reading magazines, so it was really no problem at all.
I have been plagued by Achilles Tendinitis for months – It's is absolutely cured this week.
I have had chronic toothache for almost a year – All the pain has completely cleared up now.
I weighed in this morning at 9st11 – The lightest I have been for over 5 years.
I have come off coffee for the week, so I can come back on it in a big way tomorrow. Was scared it would be really difficult to do, as have been on about 4 cups a day. Had a headache Monday, then totally fine.
Tuesday, work has been rained off, so I can spend the whole day getting really organised for my trip. Also, I feel rested and ready to go for PM track session. We are doing mile reps in 5.10, it feels so easy that I hit the last one in 5.01, by mistake. Running 10 seconds quicker on the last lap. I just can't help it.
I am staying in the same AirBnb as I did last year (read post here). It is a loft about 3ft high, which forces me to stay in bed all day. I know exactly how to get there, can go to all the same shops, use the same public transport, and run the same routes. I watch the new Avengers movie, love it. Go to race HQ and get my chip and race number with zero drama.
I do the Berlin parkrun on Saturday morning. Over 500 people turn up, 5x the normal number, most of whom are also doing Berlin Marathon tomorrow. It is a beautiful morning, and a lovely park, and I just enjoy clipping around in 16.55, with Paul Martelletti (winner of recent Ladywell 10000m, post here) running rings round me taking photos. I take the opportunity to do a dress rehearsal for tomorrow. ON race gear with gels attached, and Cloud Flash. All fits and feels perfect.
I'm now back in my little hobbit hole, thinking about watching either the new Jurassic Park, or Deadpool 2. Gonna make some spaghetti bolognese tonight, then early bed.
I can't say what will happen tomorrow, but there can be no excuses. Everything has gone as well as possible. It is all on me now. And so it should be.
There is one thing for certain tomorrow; my little girl wants me to bring her back a 'Berlin Medal', which means I have to finish the race. So that is what I will do.
If you want to track me on the big day, download the official app, and put in number 106, and you will find me there. Thanks so much for all the kind words everyone, see you after!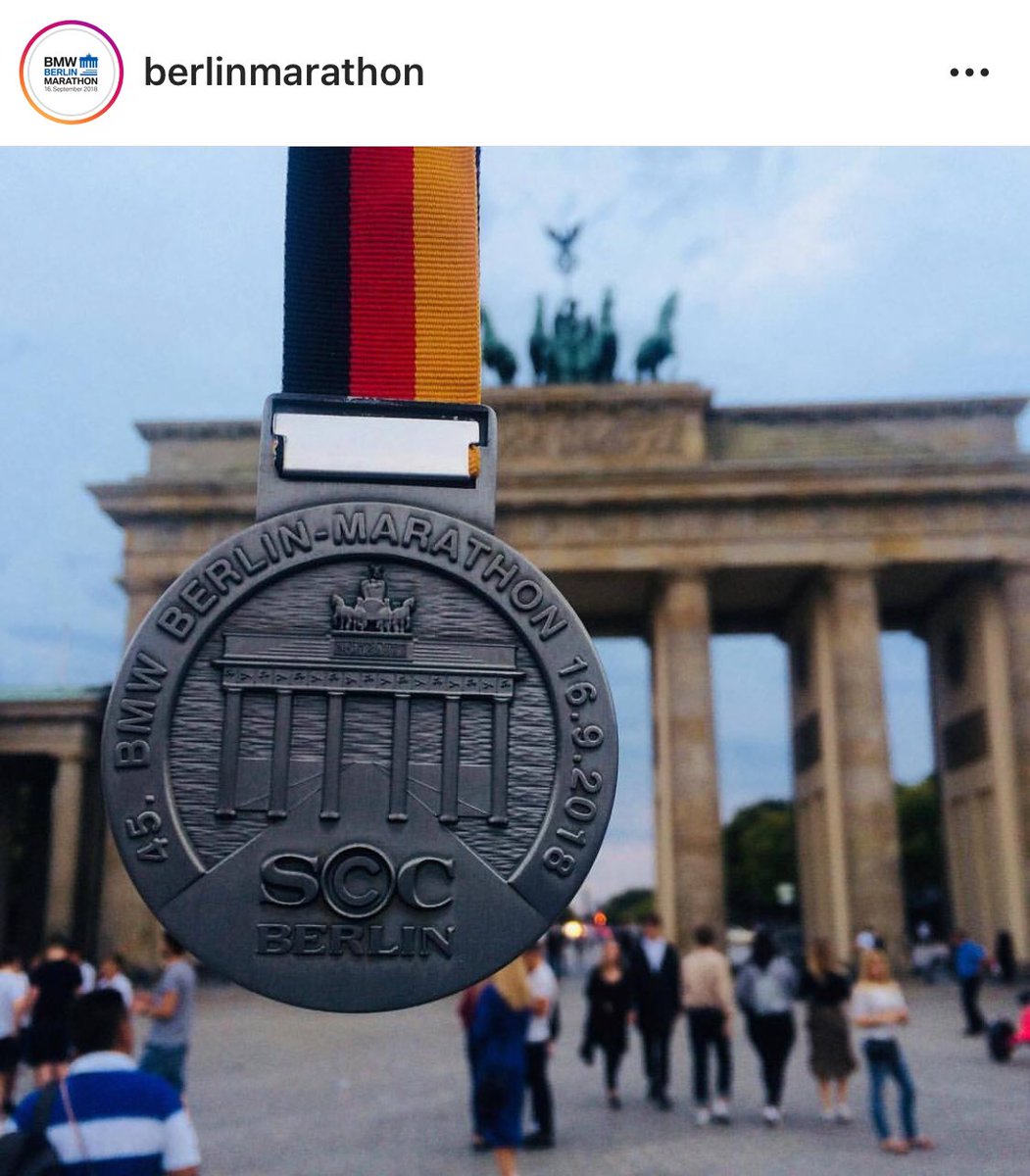 ---
Non-running related highlight of the week
My little family drive me to Liverpool Airport on a lovely sunny morning. We hangout in Starbucks with chocolate croissants, and play with stickers in a magazine. We do big cuddles and kisses. Best send off ever.
Best thing on the internet this week:
2 interviews that came online this week
First:
"Russell Bentley, a great guy, a great runner, and author of a great blog."
Kind words from the interviewer. An excellent judge of character who clearly knows his stuff.
Second:
Maybe not as interesting as mine, but worth a read if you have already read my (far more amazing) interview.
Particular snippet I really want to share:
"But perhaps what is most unusual about Kipchoge, is the one thing he does not do: overextend himself in training. He estimates that he seldom pushes himself past 80 percent — 90 percent, tops — of his maximum effort when he circles the track for interval sessions, or when he embarks on 25-mile jogs. Instead, he reserves the best of himself, all 100% of Kipchoge,for race day."
Thing I'm digging this week:
This new song has been getting me pumped all week. I'm trying to limit my usage of it, so it doesn't lose it's magic before the big day.
No idea what is going on in the video though!
link here
---
10/9/2018
AM
PM
Monday
REST
6tm @ 6.30min miling
easy
Tuesday
REST
4 x mile (1min rest) in 5.10. Last one in 5.01. 400m (1min rest) 200m in 62/28. 8 miles total
easy
Wednesday
REST
6 @ 8min miling
PM run on beautiful trails of Wales Coast Walk
Thursday
5tm @ 7min miling
Fly to Berlin
easy
Friday
4 @ 9min miling
easy
Saturday
Berlin parkrun – 16.55. 6 miles total
REST
everything is easy
Sunday
Berlin Marathon
TOTAL:
tm = treadmill